Compactor Storage System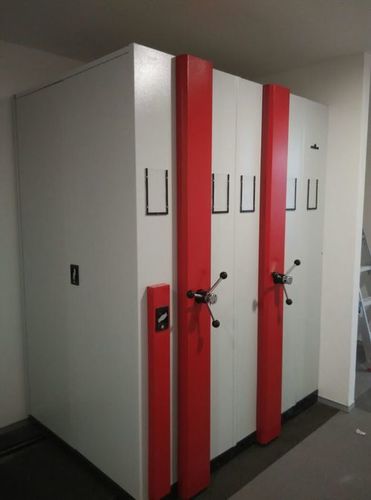 Compactor Storage System
Product Description
Compactor
Safeage Compactor Storage Systems "Spacemate" have been instrumental in helping all kinds of businesses maximize existing space. The flexibility we offer ranges from open shelf filing closed office cupboards, drawer systems, lockers etc. a product designed in to cater to your specific storage needs. We analyze your specific requirements and develop a customized system for you.
Modular Structure: The super structure is totally assembled on site from knocked down components such as shelves , front panels, end panels, vertical and rear panels, central partitions etc. bolted together to form an integral Unit.
Travel Wheel: The travel wheel is of cast iron. The casting is precise and the wheel pattern has a larger circumference than the round bar of the track on which it travels. This makes for minimal contact between the wheel and track, the entire load falling on a single point, thus causing minimum friction and ensuring effortless movement.
Surface Treatment: As per technological requirement the steel is treated by degreasing, acid cleaning, phosphating, water washing etc. by using a seven tank dip process.
Final Finish: Powder coating using a good quality powder. High pressure electrostatic spraying with 220oC baking for 10 minutes makes the powder adhere to the steel surface and provides for a hard scratch resistant finish. The final surface consists of homogenously thick powder coating approximately 70 microns thick.